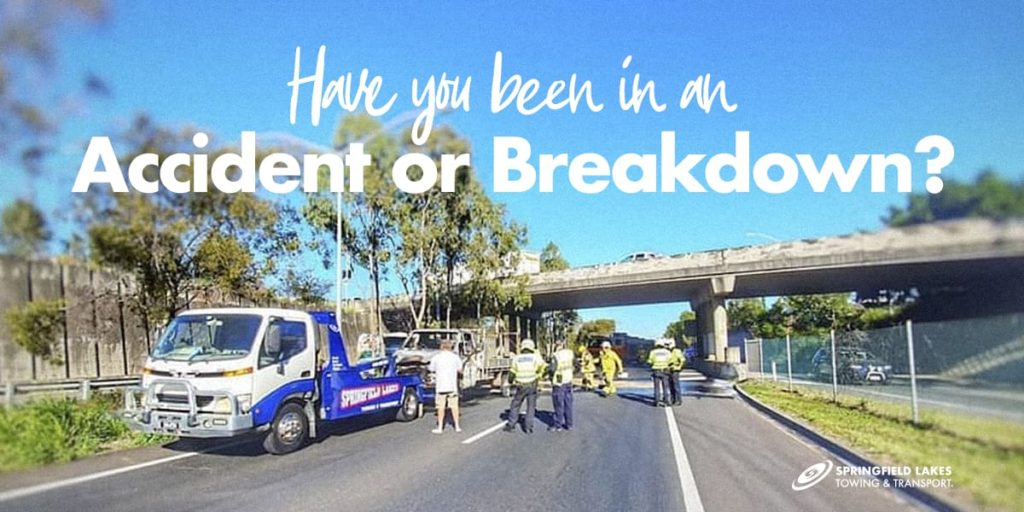 There are various reasons why you may at some point need a tow truck service. Perhaps you've broken down on the side of the road and let the your roadside assistance membership lapse, perhaps you've been in a minor road accident/collision or have an unregistered vehicle to move. There may be times where you simply need to get your car from your home to the mechanic.
Many motorists are unaware of the difference between accident towing and breakdown towing. But being aware of their differences can save you a lot of time and trouble in the event that you're stranded somewhere with a vehicle that just won't go and you need to engage a towing company.
Breakdown Towing or 'Trade Towing'
The term "Trade Towing" is for non-accident motor vehicle tows and is classed as towing undertaken for hire or reward. For example, if your vehicle breaks down somewhere and needs a tow truck operator to come and tow the vehicle away. You don't have a roadside assistance membership to cover the call out and removal of your motor vehicle. This may be done by anyone with a vehicle capable of performing the towing function. Including tow trucks licensed to attend accident scenes. Trade towing has been deregulated in Queensland and while trade towing operators are no longer required to be licensed, they are still required to comply with other laws. These include road safety laws, consumer protection laws, occupational health and safety laws, etc. Be wary of whom you choose to tow your vehicle as there are many operators who will be cheap but lack the proper insurances to ensure your vehicle is covered from damage by the towing operator.
Accident towing
Towing a damaged vehicle that has been involved in an accident may only be completed by a licensed tow truck company like springfield lakes towing & transport pty. ltd. Vehicles performing accident towing services must be licensed, and these vehicles will be issued with a licence number which should be displayed on both sides of the vehicle, these trucks must also display the holding yard address where the operator will be taking your vehicle. All drivers and passengers (except customers) in tow trucks who attend accident scenes must be accredited and carry a Industry authority licence. This will be blue in colour and look like a regular licence. The accident towing industry in Queensland is regulated by the Accident Towing Services Act and the Accident Towing Services Regulations, which contain strict requirements to ensure safe and responsible accident towing in Queensland.
How Much Does A Tow Truck Service Cost?
There are two types of towing charges applicable for car removal and towing in Queensland. Accident towing is charged according to rates set by the Qld Govn't in the Qld towing regulations and will include GST. (At the time of writing this the regulated towing fee is $369.30 inc gst) if you are unsure you can always ask the towing operator. Be aware that the charges for Trade Towing are not regulated as they are for accident towing services. Good towing companies should accept payment in the form of both cash and credit card. Local towing commonly starts from around $110 inc gst in Brisbane however most companies will reduce this rate though if its not urgent. This applies local tows (20kms). It is important to know how much the towing operator will charge you for their service as well as how the company expects to be paid for the tow prior to accepting. As some companies will not release your vehicle until the bill has been paid.
Using The Right Person For The Job
When you need a service performed, you choose the best licensed provider for the job. For example if you needed a wooden floor repaired you wouldn't call the carpet guys, you would call someone who specialised in timber floor repairs. Similarly, when booking a tow truck you need to book someone who specialises in breakdowns and accident tows as they require different skills. Be sure the company you choose will cover any damage/loss that occurs to your vehicle in the transport process for piece of mind.
Plan Ahead For Breakdowns
It can be more than a little inconvenient to have your vehicle break down, particularly at night or in an area of little phone reception. Make that future situation a little easier on yourself by finding the number of an experienced, suitable towing company in Brisbane that you can call at any time. For experienced, prompt and cheap towing Qld Wide call Springfield lakes towing & transport Pty. Ltd. on (07) 3172 2950. We offer comprehensive, 24/7 towing services for a range of vehicles, Queensland wide. You may also want to save other important contacts like your insurer claims line and roadside assistance providers phone number.